2018 Shreeve Award
Colden Baxter, Idaho State University biological sciences professor, is the recipient of the 2018 Jean'ne M. Shreeve NSF EPSCoR Research Excellence Award. The award was announced at the 2018 Idaho EPSCoR Annual Meeting in Sun Valley.
Baxter first participated in NSF EPSCoR in Idaho as a junior faculty member upon joining ISU in 2004. This prestigious award is for the research accomplishments resulting from his productive career, assisted by early involvement in NSF EPSCoR Research Infrastructure Improvement programs.
---
NSF 2026 Idea Machine

NSF 2026 is one of the Foundation's 10 Big Ideas.  It will invest in bold foundational research questions that are large in scope, innovative in character, originate outside any particular NSF directorate, and require a long-term commitment.   NSF 2026 will cross boundaries in innovative ways, fill recognized gaps, or take advantage of new opportunities. This Big Idea is framed around the year 2026 in order to tie into the Nation's 250th anniversary. It will ensure continuous exploration at the frontiers and risk-taking in areas that might not fit inside the "box" of any particular NSF program.
NSF 2026 invites the community to help set the Foundation's long term STEM research and education agenda by participating in the NSF 2026 Idea Machine, a prize competition to identify new directions for future research. Key points about the Idea Machine:
Entrants suggest "grand challenge" questions for future research, first in narrative form and then a subset via video pitches.
The public will have the opportunity to weigh in on entries.
Authors of the best ideas will receive public recognition and/or cash prizes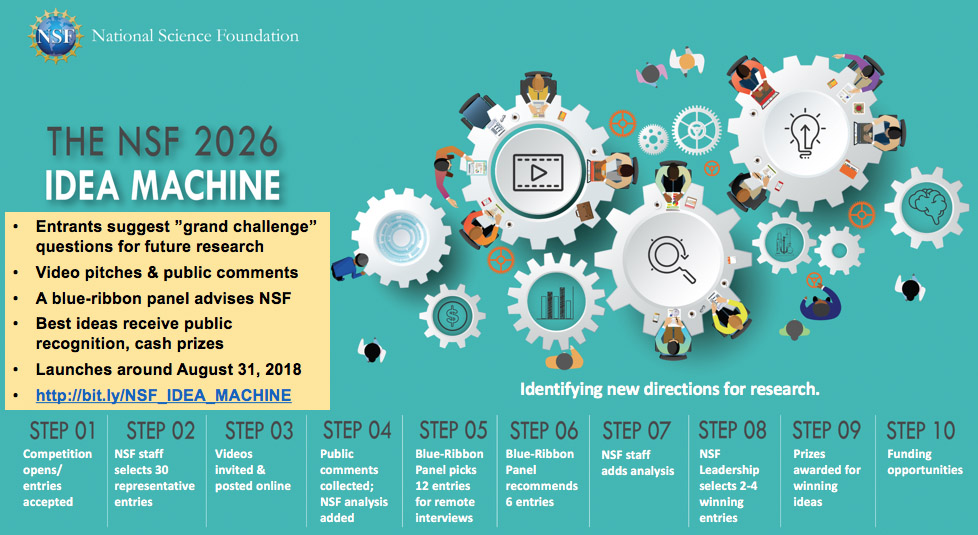 ---
Research Highlights Paths to the Well-being of Mid-sized Cities
A new collaborative research study by MILES researchers at Idaho State University, Boise State University, and University of Idaho, was recently published in "Urban Ecosystems" in June 2018.
The article, "A comparative study of urban fragmentation patterns in small and mid-sized cities of Idaho," examines the impact of urbanization on ecological function and its effect on the provisioning of ecosystem services. This collaborative study, which could help to inform and balance urban growth within and around Idaho's mid-sized cities, has the potential to minimize fragmentation, increase property values, and create communities that highlight the ecosystem services that are important to the residents.
---
NSF Grants Conference, Nov 8-9

Save the Date! Join us on November 8-9, 2018 in New Orleans, Louisiana for the 50th National Science Foundation Grants Conference! The Fall 2018 NSF Grants Conference will be held at the Intercontinental New Orleans.
These events are primarily designed to provide new faculty, researchers and administrators with key insights into a wide range of current issues at NSF, including proposal preparation and merit review basics, award management topics and other important information. NSF program officers representing each NSF directorate will be on hand to provide up-to-date information about specific funding opportunities and to answer attendee questions.
Registration will open on Thursday, September 6th at 12:00 PM EST. We anticipate the conference will reach capacity very quickly, so we encourage you to register as soon as it opens. We will send an email reminder to our listserv on Tuesday, September 4th.
In the meantime, please feel free to check nsfgrantsconferences.com for the most up-to-date information, and view recordings of sessions from last year's event. (You may also contact us via email: grants_conference@nsf.gov.)
We hope to see you in New Orleans in the Fall!
---
Social-Ecological Future of the American West
HES Workshop, Boise State (May 7-10, 2018)
Workshop goals:
Communicate key interactions & feedbacks affecting environmental sustainability, 
Inform the development of effective management strategies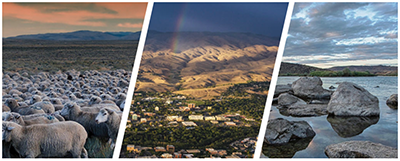 ---
New MILES Publication!
Applying Place-Based Social-Ecological Research to Address Water Scarcity, by Antonio Castro and others.
This multi-institutional, international collaboration provides a commentary on insights into conducting future solutions-oriented research on water scarcity based on the understanding of the social-ecological dynamics of water scarce regions.

---
Laird Noh, Idaho EPSCoR State Committee Chairman, Receives Prestigious Danek Award

The Established Program to Stimulate Competitive Research (EPSCoR) has named retired Idaho State senator Laird Noh the Danek Award recipient for 2018. Noh, an Idaho businessman, received the award for his work as Idaho EPSCoR State Committee Chairman and as a trustee of the Idaho Nature Committee for 23 years.
The Danek award recognizes extraordinary individuals who develop the best ideas to resolve research disparity and who have established a long-term commitment to the ideals and goals of EPSCoR.
Senator Laird Noh received his B.S. in Business and Agriculture from the University of Idaho, and an MBA from the University of Chicago. He also received an honorary Doctorate of Natural Resources from the University of Idaho.
Senator Laird Noh is a Magic Valley sheep rancher. He taught economics for two years at Boise Junior College (now Boise State University). He served in the Idaho Senate from 1980-2004 and was continuously a member of the Education Committee and the Resources and Environment Committee, which he chaired from 1982-2004. Noh was involved in the establishment of the Idaho EPSCoR Program and has served on the Committee since 1989. He is currently chairman of the Rocky Mountain Sheep Marketing Association; a member of the Liaison Committee, Northwest Irrigation, Soils Research Laboratory, USDA, Agricultural Research Service, Kimberly, Idaho; a member of the Dean's Advisory Committee, College of Agriculture and Life Sciences, University of Idaho; and a member of the Executive Committee of the Idaho Nature Conservancy. In 2005, he was the recipient of their national Lifetime Achievement Award.
In 2015, the Boards of the EPSCoR/IDeA Coalition and the EPSCoR/IDeA Foundation created the "Danek Award," named after Dr. Joe Danek, a long-time supporter and "revolutionary" individual recognized for his work in addressing research disparity across the United States.
Often referred to as the "Father of EPSCoR," Dr. Joe Danek is known for his commitment to building a program that improves the research infrastructure in states which receive low amounts of federal research funding.
Noh said it is indeed an honor. "I have the utmost admiration for Joe Danek. He can rightly claim credit for significantly building the scientific capacity of the participating states and, hence, the entire nation. I believe Idaho is the only state to hold one of these grants, now some $20 M, distributed over 5 years, since 1985. We have been blessed with fine staff and leadership at our universities, and an excellent 17 member, broad based, Idaho Committee."
---
The Established Program to Stimulate Competitive Research (EPSCoR) helps researchers and institutions improve their research capabilities and quality in order to compete more effectively for "mainstream" competitive research funds. Through EPSCoR, over 20 states can apply for large, highly competitive, multiyear grants from the National Science Foundation designed to build long-term scientific capacity. All three of Idaho's research universities participate, and the state of Idaho provides 20% matching funds for the grants.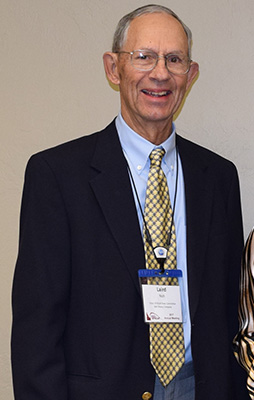 ---
Fall 2017 NSF Grants Webcast Now Available

The Fall 2017 National Science Foundation (NSF) Grants Conference Webcast is now available online. You can view all the presentations and recordings of the plenary sessions from the NSF Grants Conference here.
Topics include: Types of NSF Funding Opportunities, Proposal Preparation, Award Management, the Faculty Early Career Development (CAREER) Program, Merit Review, and more.
For questions, please feel free to contact grants_conference@nsf.gov.
Visit the NSF Grants Conference site
---
EPSCoR RII Award

The new NSF EPSCoR research program seeks to understand how genetic diversity and phenotypic plasticity affect species response to environmental change, shaping both population response and adaptive capacity. Two focal taxa will be under study: one aquatic (redband trout) and one terrestrial (sagebrush). These taxa are integral to ecosystems in the American West, and are central to land-use management decisions that drive the economy of the region.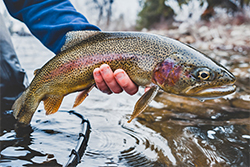 Redband Trout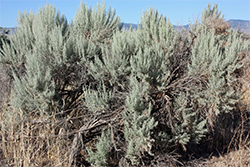 Sagebrush

Linking Genome to Phenome to Predict Adaptive Responses of Organisms to Changing Landscapes
Research Infrastructure Improvement Track-1 Award (2018-2023)
This award will advance fundamental knowledge on the mechanisms that rule genome to phenome pathways to predict how species adapt to external stressors and a changing environment. It will help translate this knowledge into evidenced-based resource management policies and practices for more adaptive and resilient species and landscapes.
Idaho's approach is through Genes to Environment: Modeling, Mechanisms, and Mapping (GEM3). This statewide project combines research strengths in bioinformatics, complex modeling, ecology, fisheries science, genomics, geospatial science, remote sensing, and social-ecological systems (SES) science to contribute to one of the most compelling and contemporary national challenges of our time – understanding the "Rules of Life: predicting phenotypes from what we know about the genome and environment".
---
Boise State's HES Initiative
The Human-Environment Systems team is working to solve complex environmental problems and train a new generation of students to meet the challenges of the next century. We believe that meeting the great environmental challenges facing the planet requires understanding the interplay between the biophysical world and our societal actions. We aspire to create knowledge and capacity to address these challenges.
---