NSF Grants Conference, Nov 8-9

Save the Date! Join us on November 8-9, 2018 in New Orleans, Louisiana for the 50th National Science Foundation Grants Conference! The Fall 2018 NSF Grants Conference will be held at the Intercontinental New Orleans.
These events are primarily designed to provide new faculty, researchers and administrators with key insights into a wide range of current issues at NSF, including proposal preparation and merit review basics, award management topics and other important information. NSF program officers representing each NSF directorate will be on hand to provide up-to-date information about specific funding opportunities and to answer attendee questions.
Registration will open on Thursday, September 6th at 12:00 PM EST. We anticipate the conference will reach capacity very quickly, so we encourage you to register as soon as it opens. We will send an email reminder to our listserv on Tuesday, September 4th.
In the meantime, please feel free to check nsfgrantsconferences.com for the most up-to-date information, and view recordings of sessions from last year's event. (You may also contact us via email: grants_conference@nsf.gov.)
We hope to see you in New Orleans in the Fall!
---
Entomology paper credits NSF EPSCoR 20 years after initial project funding

In 1998, a $3.8M NSF-Idaho EPSCoR award was made to support research in the areas of molecular ecology and environmental science and engineering at Idaho's higher-education institutions. The funds were used to increase the long-term productivity of Idaho's young research faculty by improving the research tools and human talent available to them for furthering their ongoing investigations.
In a 2018 Annual Review of Entomology paper entitled, "Insect-Borne Plant Pathogens and Their Vectors", authors Eigenbrode, Bosque-Perez, and Davis credit the 1998 NSF-Idaho EPScoR award, demonstrating the legacy and lasting impact NSF EPSCoR has on research in Idaho.
---
Social-Ecological Future of the American West
HES Workshop, Boise State (May 7-10, 2018)
Workshop goals:
Communicate key interactions & feedbacks affecting environmental sustainability, 
Inform the development of effective management strategies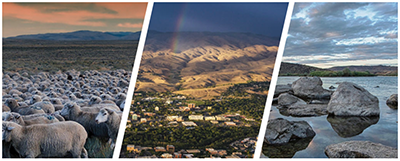 ---
New MILES Publication!
Applying Place-Based Social-Ecological Research to Address Water Scarcity, by Antonio Castro and others.
This multi-institutional, international collaboration provides a commentary on insights into conducting future solutions-oriented research on water scarcity based on the understanding of the social-ecological dynamics of water scarce regions.

---
Laird Noh, Idaho EPSCoR State Committee Chairman, Receives Prestigious Danek Award

The Established Program to Stimulate Competitive Research (EPSCoR) has named retired Idaho State senator Laird Noh the Danek Award recipient for 2018. Noh, an Idaho businessman, received the award for his work as Idaho EPSCoR State Committee Chairman and as a trustee of the Idaho Nature Committee for 23 years.
The Danek award recognizes extraordinary individuals who develop the best ideas to resolve research disparity and who have established a long-term commitment to the ideals and goals of EPSCoR.
Senator Laird Noh received his B.S. in Business and Agriculture from the University of Idaho, and an MBA from the University of Chicago. He also received an honorary Doctorate of Natural Resources from the University of Idaho.
Senator Laird Noh is a Magic Valley sheep rancher. He taught economics for two years at Boise Junior College (now Boise State University). He served in the Idaho Senate from 1980-2004 and was continuously a member of the Education Committee and the Resources and Environment Committee, which he chaired from 1982-2004. Noh was involved in the establishment of the Idaho EPSCoR Program and has served on the Committee since 1989. He is currently chairman of the Rocky Mountain Sheep Marketing Association; a member of the Liaison Committee, Northwest Irrigation, Soils Research Laboratory, USDA, Agricultural Research Service, Kimberly, Idaho; a member of the Dean's Advisory Committee, College of Agriculture and Life Sciences, University of Idaho; and a member of the Executive Committee of the Idaho Nature Conservancy. In 2005, he was the recipient of their national Lifetime Achievement Award.
In 2015, the Boards of the EPSCoR/IDeA Coalition and the EPSCoR/IDeA Foundation created the "Danek Award," named after Dr. Joe Danek, a long-time supporter and "revolutionary" individual recognized for his work in addressing research disparity across the United States.
Often referred to as the "Father of EPSCoR," Dr. Joe Danek is known for his commitment to building a program that improves the research infrastructure in states which receive low amounts of federal research funding.
Noh said it is indeed an honor. "I have the utmost admiration for Joe Danek. He can rightly claim credit for significantly building the scientific capacity of the participating states and, hence, the entire nation. I believe Idaho is the only state to hold one of these grants, now some $20 M, distributed over 5 years, since 1985. We have been blessed with fine staff and leadership at our universities, and an excellent 17 member, broad based, Idaho Committee."
---
The Established Program to Stimulate Competitive Research (EPSCoR) helps researchers and institutions improve their research capabilities and quality in order to compete more effectively for "mainstream" competitive research funds. Through EPSCoR, over 20 states can apply for large, highly competitive, multiyear grants from the National Science Foundation designed to build long-term scientific capacity. All three of Idaho's research universities participate, and the state of Idaho provides 20% matching funds for the grants.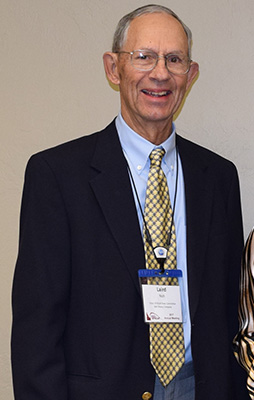 ---
Fall 2017 NSF Grants Webcast Now Available

The Fall 2017 National Science Foundation (NSF) Grants Conference Webcast is now available online. You can view all the presentations and recordings of the plenary sessions from the NSF Grants Conference here.
Topics include: Types of NSF Funding Opportunities, Proposal Preparation, Award Management, the Faculty Early Career Development (CAREER) Program, Merit Review, and more.
For questions, please feel free to contact grants_conference@nsf.gov.
Visit the NSF Grants Conference site
---
Boise State's HES Initiative
The Human-Environment Systems team is working to solve complex environmental problems and train a new generation of students to meet the challenges of the next century. We believe that meeting the great environmental challenges facing the planet requires understanding the interplay between the biophysical world and our societal actions. We aspire to create knowledge and capacity to address these challenges.
---
UI Physicist Receives NSF Grant for Genome to Phenome Research
A University of Idaho project examining changes in the amino acids that are the building blocks of life and how they lead to changes in living things was awarded a $6 million grant from the National Science Foundation.
The grant, awarded to Associate Professor F. Marty Ytreberg in the Department of Physics in UI's College of Science, is among eight projects totaling $41.7 million awarded through the NSF's Established Program to Stimulate Competitive Research (EPSCoR) Program.
Ytreberg's project, "Using biophysical protein models to map genetic variation to phenotypes," will use computer simulations, mathematical modeling and experiments to determine how amino acid changes modify the way that proteins interact with other molecules.
Read more about Dr. Ytreberg's project
Learn more about the EPSCoR award
---
BSU awarded $1.7M to study climate change effects on birds
The Department of Defense has awarded a team of researchers, led by Boise State University biological sciences professor Julie Heath, a four-year, $1.7 million grant to monitor the effects of climate change on American kestrels and develop a modeling system that can be used broadly to predict how other avian species will react to changes in weather patterns.
---
ISU's Sarah Godsey Receives Prestigious NSF Award
Idaho State University geosciences Assistant Professor Sarah Godsey has received one of the "most prestigious awards in support of early-career faculty" awarded by the National Science Foundation. Her award includes more than $500,000 to study streams and stream channels for five years.
The award is part of the NSF's Faculty Early Career Development Program (CAREER). According the NSF, the award is given to faculty "who have the potential to serve as academic role models in research and education and to lead advances in the mission of their department or organization."
The title of Godsey's CAREER award is "Active Learning Across Interfaces: Controls on Flow Intermittency and Water Age in Temporary Streams."
---