NSF Virtual Grants Conference

The National Science Foundation (NSF) will be hosting the Fall 2023 NSF Virtual Grants Conference during the week of December 4 – 7, 2023.
Registration will be free of charge and is now open! To learn more and/or register for the conference, visit nsfpolicyoutreach.com. 
You may also view the Spring 2023 Virtual Grants Conference recordings on our YouTube page. For those who cannot attend the live conference, all recorded conference sessions will be available on-demand shortly after the event and posted on our website and our YouTube page.
If you have any logistical questions about this virtual conference, please contact: grants_conference@nsf.gov
---
NSF EPSCoR Office Hour

The National Science Foundation will be hosting the third Established Program to Stimulate Competitive Research (EPSCoR) Office Hour.
When: Wednesday, November 15, 2023 from 4:00 pm – 5:00 pm (EST)
Office Hour Audience for November 15th Session: This Office Hour will be of broad interest to stakeholders in EPSCoR jurisdictions, including potential future principal investigators.
Summary of Topic: The report on Envisioning the Future of NSF EPSCoR, published in August 2022, provided 8 recommendations for program improvement. Join us to find out what specific activities NSF EPSCoR has been working on in response to these recommendations and where the "Future of NSF EPSCoR" is heading. The discussion will include EPSCoR Section Head Sandra Richardson, NSF EPSCoR program officers, and the Future of EPSCoR subcommittee co-chair(s).
How to Attend: Advance registration is required. Register here to receive the link for the session. Please use an institutional email address for registration.
How to Submit Questions: Office Hour participants are encouraged to submit questions in advance through the registration form or by sending an email to epscor-office-hours@nsf.gov with "Office Hour Question" in the subject line.
If you missed the last office hour, or would like to review the presentation again, please visit the Office Hours website.
You can also learn more about NSF EPSCoR before the event at https://www.nsf.gov/epscor.
---
Idaho EPSCoR Committee Annual Business Meeting
The Idaho EPSCoR Committee annual meeting will be held November 2nd at 2 pm at Idaho State University, Idaho Central Credit Union Bengal Alumni Center.
---
EPSCoR Collaborations for Optimizing Research Ecosystems Research Infrastructure Improvement Program (E-CORE RII)
The E-CORE RII program supports jurisdictions in building capacity in one or more targeted research infrastructure cores that underlie the jurisdiction's research ecosystem. Based on the evidence-based and self-identified need of the jurisdiction, capacity building supported by E-CORE RII may include (but is not limited to) development, enhancement, and/or sustainability of: jurisdiction-wide research administration; research facilities; higher education pathways; STEM education (K-16) pathways; broadening participation; workforce development; national and global partnerships; community engagement and outreach; economic development and use-inspired research; and/or early career research trainee pathways. 
E-CORE RII projects must be designed to support the sustainability of the infrastructure core(s) beyond the award period. In E-CORE RII's support of one or more research infrastructure cores in an EPSCoR-eligible jurisdiction, the program will also support the development and growth of new jurisdictional networks, and the leveraging of existing jurisdictional networks, that can drive demonstrable and sustainable impact to advance the jurisdiction-wide research ecosystem.
Deadline date: December 6, 2023
Award information: Up to $37,500,000 annually, to support up to 15 newly funded E-CORE RII awards
NSF E-CORE RII website: https://new.nsf.gov/funding/opportunities/epscor-collaborations-optimizing-research
---
EPSCoR Research Incubators for STEM Excellence Research Infrastructure Improvement (E-RISE RII)
The E-RISE RII program supports the incubation of research teams and products in a scientific topical area that links to research priorities identified in the submitting jurisdiction's approved Science and Technology (S&T) Plan. E-RISE RII invites innovative proposals that will lead to development and implementation of sustainable broad networks of individuals, institutions, and organizations that will transform the science, technology, engineering and mathematics (STEM) research capacity and competitiveness in a jurisdiction within the chosen field of research.
E-RISE RII projects must be designed to incubate (i) areas of research capacity building within a chosen research topic; (ii) development of a skilled workforce that is relevant to the project and its outcomes; (iii) promotion of diversity, equity, access, and a culture of inclusion of different types of academic institutions (see below) and non-academic sectors (e.g., industry and government); (iv) integration of the research with societal impacts in a timebound manner; and (v) sustainability of a clear pathway towards preserving the resulting research incubator's team and products beyond E-RISE RII funding.
Deadline date: January 16, 2024
Award information: Up to $31,500,000 annually, to support up to 18 newly funded awards for the first four years.
NSF E-RISE RII website: https://new.nsf.gov/funding/opportunities/epscor-research-incubators-stem-excellence
---
NSF announces 6 new EPSCoR Track-1 awards to expand the geography of innovation across the nation
The U.S. National Science Foundation has awarded six jurisdictions $20 million each through ESPCoR, the Established Program to Stimulate Competitive Research, a program that aims to build and bolster infrastructure to advance scientific progress and elevate discovery nationwide.  
"For the United States to remain the global leader in science, engineering and technology, we must energize talent in every region and every state in our nation. Through EPSCoR, NSF catalyzes the development of research capabilities across the country, creating sustainable scientific infrastructure and communities of innovation," said NSF Director Sethuraman Panchanathan. "This year's EPSCoR awards will serve individual states and the country as a whole with critical research on wildfire management, climate change resilience, biomanufacturing and advanced biomedical devices, and data science in the service of all disciplines." 
The five-year Research Infrastructure Improvement Track-1 awardees will pursue ambitious research that addresses the impact of climate change on energy-water systems, biomanufacturing, wildfire management, using artificial intelligence to revolutionize health care and transdisciplinary research into transformative language-based data science.  
The  awardees and summary of each project are listed below: 
View NSF news release here.
To learn more about NSF's ESPCoR, visit nsf.gov/epscor. 
---
Check out NSF's new resource, the Education and Training Application (ETAP)
The National Science Foundation (NSF) has a new website – the Education and Training Application (ETAP) - designed to help people find and apply to education and training opportunities to strengthen their academic career. Principal Investigators of NSF Awards can customize NSF's ETAP application to provide opportunities for applicants to participate in. NSF ETAP opens doors to valuable opportunities, including:
Active field research experiences

Hands-on learning and mentorship

Summer programs and teaching assistantships

Internships and career experience

Scholarships and fellowships
Learn more at etap.nsf.gov

---
Boise State hydrologist lauded for research excellence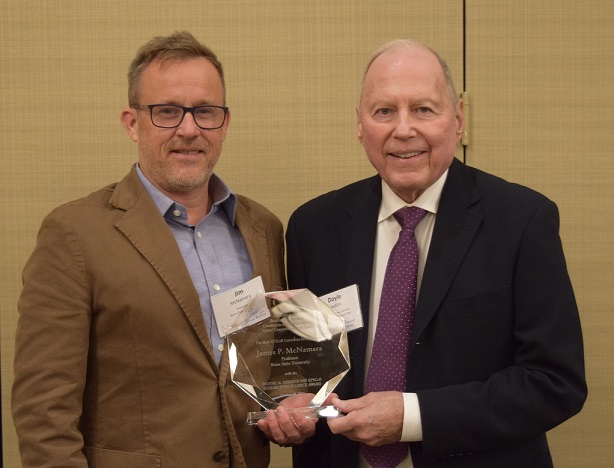 A Boise State University hydrologist is the recipient of the 2022 Jean'ne M. Shreeve National Science Foundation (NSF) Estab­lished Program to Stim­u­late Com­pet­i­tive Research (EPSCoR) Research Excellence Award. James McNamara, a professor in Boise State's Department of Geosciences, received the award during October's 2022 Idaho NSF EPSCoR meeting in Boise. 
The award recognizes the accomplishments of faculty members at Boise State University, Idaho State University, University of Idaho and other state institutions of higher education who have been active participants in the NSF EPSCoR program. McNamara's significant body of published works in hydrology and contributions to Boise State programming, facilities, and students over the course of his 25-year career with the institution were key factors in his selection.
---
FY22 DEPSCoR funding opportunities available now
Two FY22 Defense Established Program to Stimulate Competitive Research (DEPSCoR) funding opportunity announcements are now available on grants.gov. DEPSCoR is a capacity building program that is designed to strengthen the research infrastructure at institutions of higher education in underutilized States/Territories.
---
Quantum DNA research receives $5M grant from DOE

Boise State's Quantum DNA (qDNA) Research Group received a $5M grant from the Department of Energy Basic Energy Science's (BES) EPSCOR as part of a broader announcement of funded energy-related research projects.
Composed of five research teams that span multiple departments and colleges at Boise State, and involving almost 30 faculty, professional staff and students, the qDNA Research Group is pioneering the use of deoxyribonucleic acid (DNA) as a programmable, self-assembling architecture that organizes light-absorbing dye molecules to achieve quantum entanglement.
 
---