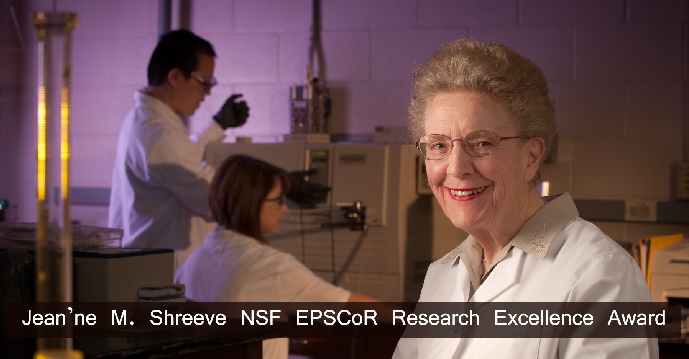 Inspired by University of Idaho Distinguished Professor Jean'ne M. Shreeve for her imaginative leadership of EPSCoR in Idaho for more than 20 years, Idaho EPSCoR established the Jean'ne M. Shreeve NSF EPSCoR Research Excellence Award.  
The Award recognizes the accomplishments of faculty members at Boise State University, Idaho State University, the University of Idaho or other state institutions of higher education who have previously been active participants in the NSF EPSCoR program. It highlights the substantial value of the NSF EPSCoR program to the State of Idaho, as well as the individual accomplishments of the recipient. The award may recognize a single significant contribution or an accumulation of significant contributions that have received national or international recognition.
The award includes a plaque, a monetary award of $9,000, and an additional amount to support the cost of research or professional activities that contribute to the productivity of the award winner.
The nominee must:
Hold the rank of tenured associate professor or tenured full professor at the University of Idaho, Boise State University, Idaho State University or other eligible institution at the time the award is made
Have a research career that was clearly advanced by NSF EPSCoR
Have an outstanding publication record as author or co-author in refereed international journals
Be engaged in ongoing externally supported competitive research program(s) which involve students and/or postdoctoral coworkers
Nominations of eligible faculty members can be made on an annual basis.
The nomination period for the 2023 award is now OPEN, with a priority due date of 5:00 pm Pacific Time on September 28, 2023.
Nominations must provide:
A letter of nomination that describes the nominee's scholarly or creative accomplishments, the role played by NSF EPSCoR, the body of work to be recognized, the significance of the work, and the mentoring of co-workers to careers in subjects of related fields (3 page max)
Two letters of support from internationally acclaimed practitioners (from institutions other than their own) in a field who can speak knowledgeably of the nominee's contributions to the national research agenda (2 page max, each)
Up to three letters from former or current co-workers describing the nominee's excellence as a collaborator, mentor and/or professional in the discipline (2 page max, each)
Full curriculum vitae
Please email electronic copies of the nomination materials to Rick Schumaker (rschumak@uidaho.edu).